You should have been here…in Dahab
It's a busy Blue Hole - sometimes eight ropes stretching down into the blue, freedivers going up and down, some stroking forcefully, others just hanging or falling slowly. Everyday there is a new personal best. 40 athletes are gathering here for the Triple depth competition.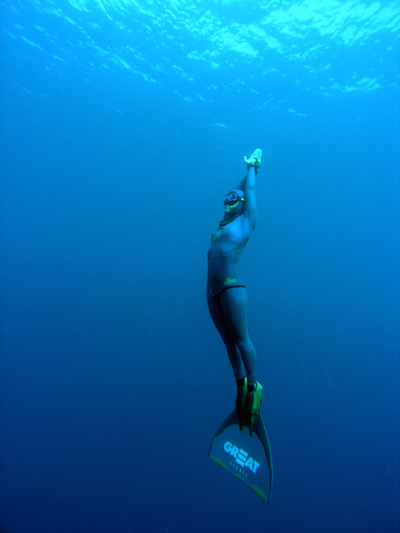 Annelie Pompe has set a personal best. Thomas Grindevold seems to have "throwed in the towel". After saving a lot of money on a student budget he finally could set aside many weeks of training in the Blue Hole. He had the ambition of leaving 80 behind him and pushing on. Since he was on his oxygen edge he stayed around 80 for some days. He started of one day with two 73 meter dives. On the following four days he was diving around 80 which gave him DCS and he had to go to the pressurechamber. This experience seem to have put him of, and deciding not to take part in TD or WC.
Winram had some tries at the WR CNF in September but health held him back, he did though succeed a 76 meter dive that put him on the top of the ranking. Now Winram is back, but bringing an earinfection with him, staying out of water, hoping to be cured before TP.
Swedish Weine from the Swe-team Hurghada got fooled by a badly measured rope and the dive he thought was 70 was actually 76 and that spoiled his habit of only adding 2 meters to any successful dive. He moved on from there and now he has placed himself on the list of 80 meter divers. Finally he switched from his Samurai to a Sphera.
Myself I came here with the ambition of hitting 60 CNF in training. Surprisingly this was done on my second deep diving day giving me lots of unexpected time to do other things like training with no mask (which seems to be a hard nut to crack), so far 70 FIM that lasted like forever (2.55). The trick seems to be to never open your eyes (Dave Mullins seems to be of the same idea).

Mullins is inspecting the bottom of the BH. And Natalja is here smiling as usual looking fit, brining Russian students crowding the BH with byous.
Last time I saw Littlefreediver Sara do CNF I suggested (jokingly) she might benefit from focusing on CWT where she showed great talent at the time. She very happily have informed me that she now has passed 50 in CNF, I will think twice before giving such advice again. She and others are being very secretive with their training results - which is a good idea –no use helping the others with their announcements.
With Sara, Annelie, Linda, Nathalie and Lotta and of course Natalja – Triple depth is really interesting on the ladies side. So many on a similar level (below Natalja). Linda seem to have regained motivation that had been lost for some time.
2007-10-16 18:42:10 |