Training days at WC Sharm
Training lines ranging from 55 to 100. Saftydivers on standby. Two antiballast systems with lines to 120. Oxygen available. A line to pull on to get to the dive site 100 meters out. All acessable from your hotel room.

The webpage and information from the WC team might have left us somewhat dissapointed, but the training facilities are top standard.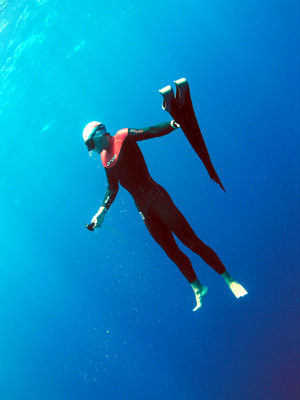 Will have done 88 with these (probably the second deepest with bifins ever).

We see a little bit of everything: early turns, failed mouthfills, bad ears, blood from sinuses, LMC shakes, two breaths followed by BO and some new PB and applause.

And of course rumours and gossip: An italian diver put the line at 75 CNF and had a major BO, Carlos is said to have had a failed dive involving a BO, Herbert came up smiling from a 95 m dive wondering why he had no contractions, Mullins tells a story from a narced dive where it took 6 seconds staring at the tag wondering what to do with it before he started his ascent, Ryouzo did an easy 100 sprinting to the surface, Guillaume is said to have good shape. Last WC´s fifth place Johan has found his limit on a 90 dive. Winrams ear is not healed yet.

With 30 euro a night (all inclusive) it is a good set up (I try to spend as much time a possible in my room since it costs me more than a euro an hour :-), but shops with decent prices ar far away and drinkingwater is not freely available (to take to your room).

Doctors are here to do lungtests on the athletes.
2007-10-27 15:19:30 |