Life and death in Dahab
.
Part one /
Part two

The reefwall in The blue hole stretches 92 meters down on the inside of the reef.
Growing
On the internetcafé the young woman beside my computor releases as sigh as if she never is going to inhale again. Is she going to cry? A man is quickly there folding his arms around her. He kneels behind her reading the email they have just recieved. I can not help myself but glancing at the first line of their e-mail.

"...embryo fertilization failed..."

I am in Dahab, a small town in the Sinai dessert belonging to Egypt. I am here to dive the famous dive site "The blue hole". A 92 meter depth a stonethrow from land and diveable in winds up to 20 knots. It has become a "Mecka" for european freedivers. The little town has grown everytime I come back. Restaurants, guesthouses, dive shops and internetplaces multiplies and spreads out on the beachwalk along the bay.
I am here to do a personal best in freediving. As you progress and get deeper it takes more and more focus and preparations to be able to improve. I have this ambition of developing a meter a month in depth. It is becoming increasingly hard as I started freediving six years ago. Then I had 40 meter as my dream (just a few meters behind the national record). It intrigues me that I am still in the sport, usually I loose intrests when I have explored my first limits. Now I keep "redefining my limits", as the famous freediver Tanya Streeters slogan goes.

Warm up
Outside the local divesite The lighthouse I find 35 meters and start my two weeks stay with warming up to this depth. As this becomes easier I start with less air in my lungs during the following days. Diving on half full lungs is hard and sometimes dangerous training, but this is what it takes to reach my goal before the end of my two weeks. My dive buddy is Annelie Pompe. She is working down here as a freedive instructor for beginners. She herself is training to get into the national team of Sweden. As a Personal trainer she has kept herself fit and endures many dives up and down the line. I am more fragile without the muscles that give stamina. My lungvolume is also very average and it takes precise training methods to achieve my goals. Freediving has for me changed into being a lifetime project in pursue of health and strength of mind. On land I train for water - and from the water I bring onto land the benefits of focus and body awareness.


Annelie waiting at 30 meters
Annelie breaks the surface after a 50 meter dive and shouts: "lätt" - meaning "easy" in swedish. I scold her for not doing the proper surfacing proceedures: breathing properly to overcome any delayed oxygen debt.

Sam Still, the young freediving star from UK arrives, he has made himself famous for being the second freediver to hold his breath in training for over ten minutes. For him it was preceeded by many months of yoga life in an ashram. Now he now wants to go deep. Anytime in Dahab you will probably find a couple of national recordholders in freediving from different countries. Right now UK, Sweden, South Africa, Portugal.

The blue hole
A few strokes from land a blue space opens up below my mask. I see reef walls on three sides. My mind and feelings follow the diveline and the sun rays into the light blue inviting depths. I am going to pull myself up and down. The discipline is called Free immersion. You need heavy weights at the end of the line and a bouy at the surface. Before entering the water we are reach by the information that another scuba diver has died in The blue hole. He is still down there in the blue darkness. In the clear visibility and warm waters you are not aware of depth. It feels so easy. Many scubas try to dive through the arch that opens up towards the sea some 55 meters down. The exit is at 65 meters and some of them get narcosis and spit out their regulators believing they are fish. Even though much less air passes my lungs on a dive I have felt the godlike sensations on some of my dives. The Egyptians at the restaurants at The Blue hole tell us that the dead scuba left a suicide note. This seems to upset them more than the actual death.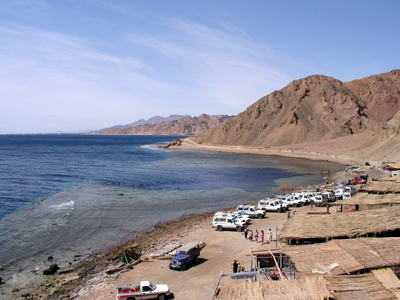 Part two
The Blue Hole in Egypt